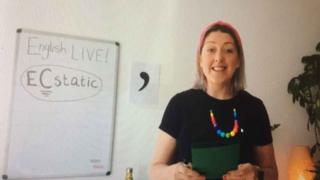 An English teacher has amassed thousands of followers worldwide after just three online lessons during the coronavirus pandemic.
Holly King-Mand, 36, from Leighton Buzzard, Bedfordshire, is providing her daily English Live sessions on Facebook.
She said she was "very proud" of having 74 followers last week but after starting the sessions on Monday now has more than 18,000.
"It's quite overwhelming," she said.
"I guess I just posted [details] in the right place at the right time."
'Blissful distraction'
Mrs King-Mand is currently at home with two daughters, aged two and eight months, and hosts a free 30-minute lesson every weekday, aimed at key stage two and three levels…


Source news bbc.com, click here to read the full news.