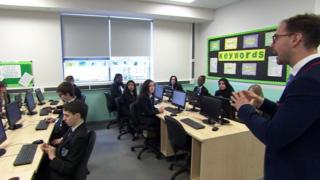 Keeping schools open as growing numbers of staff have to self-isolate amid the coronavirus epidemic is the most pressing challenge facing schools, head teacher leaders have warned.
Leaders from the two main head teacher unions say there may be too few staff available to teach and supervise.
The government policy remains schools should stay open although closures may be necessary "at the right stage" of the outbreak.
Heads say things are "very difficult."
The general secretaries of the Association of School and College Leaders and the National Association of Head Teachers met England's Education Secretary, Gavin Williamson, late on Monday.
In a joint statement, Geoff Barton and Paul Whiteman said: "This is clearly a very difficult situation and a very challenging scenario for school leaders – and…


Source news bbc.com, click here to read the full news.