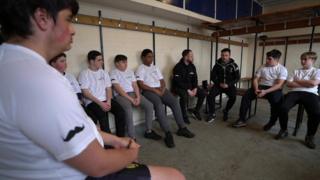 It's the ultimate in male bonding, a group of men head down in the rugby scrum, all pushing for the team.
Now a new mental fitness scheme, using lessons from the rough and tumble of the pitch, is helping boys open up and talk about their feelings.
Funded by men's health charity Movember the programme teaches boys about mental health in the familiar surroundings of their local rugby club changing rooms.
The aim is to stop unhappy adolescents becoming the suicide cases of tomorrow.
Suicide is the leading cause of death of men aged 15 to 49, and there is a growing awareness of the risks young men can face, if they do not learn to be open about their mental health.
The mental health programme, Ahead of the Game, uses trained ex-players from Rugby Union and League to…


Source news bbc.com, click here to read the full news.