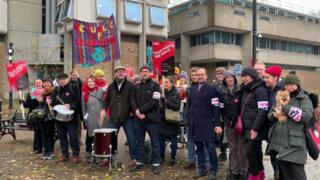 Staff at 74 universities across the UK are beginning a 14-day strike over pensions and pay and conditions.
The University and College Union will hold strikes between 20 February and 13 March and has estimated more than a million students will be affected.
This latest strike follows eight days of industrial action in November and December.
Action was also held in February and March last year, meaning some students face disruption for the third time.
The universities say strikes are not the way forward and have promised to do all they can to minimise the impact of industrial action on students.
The UCU says 50,000 of its members will take the action over workloads, pay, a 15% gender pay gap, increased casualisation and changes to pensions for staff in the…


Source news bbc.com, click here to read the full news.