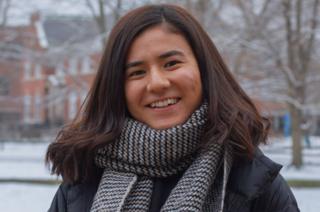 Growing up as an Afghan refugee in Pakistan, bloodshed was never far from Summia Tora's life.
From her home – a single bedroom in a house shared by four families – she could hear the sound of drones landing not far from Peshawar, in northwest Pakistan, where her family had fled in the 1990s to escape the Taliban's rise.
"I was just living in this violence, but it was a given, so I couldn't do anything about it," Summia says. Sometimes there were bombings once or twice a week. "At some point, people stopped talking about it. It would happen, and everyone would move on."
But life there was a privilege compared to Afghanistan, she tells the BBC. At least she got to go to school.
On a visit to Kabul in 2002, just after the US invasion, a girl not much older described only being able to attend school by pretending to be a boy. Summia was six, but she…


Source news bbc.com, click here to read the full news.