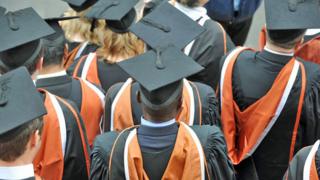 The sharp increase in university students in the UK getting top degree grades seems to have stalled, according to annual official figures.
It follows warnings from ministers of the need to prevent "grade inflation" devaluing degrees.
The latest figures show 28% of students were awarded first class degrees in 2018-19 – the same as the year before.
England's higher education watchdog, the Office for Students, had attacked "unexplained" increases in top grades.
Nicola Dandridge, chief executive of the Office for Students (OFS), said the latest figures showed an end to successive increases in first class degrees every year since 2011.
Over those years the proportion of students getting a first had risen by 80%.
"Grade inflation risks undermining public confidence in higher education for students, graduates and employers alike," said Ms Dandridge.
The…


Source news bbc.com, click here to read the full news.