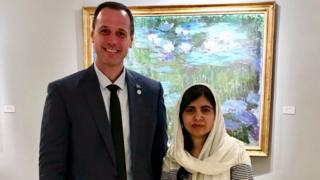 A Quebec education minister is being criticised for posting a photo with education campaigner Malala Yousafzai.
The Nobel Peace Prize winner, who wears a headscarf, would not be able to teach in the Canadian province.
Quebec recently passed a controversial law barring some civil servants, including teachers, from wearing religious symbols at work.
Jean-François Roberge said he discussed access to education and international development with Ms Yousafzai.
She was shot in the head by Taliban militants in 2012 for daring to go to school and has since been recognised internationally for her work campaigning for girls' education.
Is it OK for civil servants to wear religious symbols?
Profile:…


Source news bbc.com, click here to read the full news.