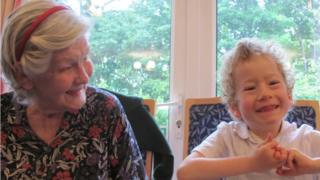 A care home is bringing children with special needs together with older people with dementia for a therapeutic singalong.
"I don't really belong here you know," says Sheila, who is 85, and has dementia.
"I don't! Really! But the staff seem to know me and they're always so nice."
Sheila knows she is waiting for something to happen in the cosy room at the Beeches Care Home, in Leatherhead, Surrey, but is not quite clear what exactly. This kind of disorientation can make her very anxious and frightened, staff say.
'Delighted shrieks'
But as the pupils from Woodlands School for children with special needs come in with their assistants, she relaxes.
"I recognise that there are young children and old people," she says.
Then with a smile from ear to ear, she says: "What happens is always a big…


Source news bbc.com, click here to read the full news.