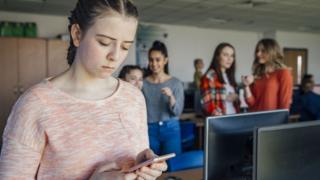 Head teachers in England are more likely to face problems with pupils bullying online and misusing social media than in any other developed country, an international study says.
A report from the OECD think thank reported the experiences of more than 250,000 teachers in 48 industrialised countries and regions.
It showed particular problems with cyber-bullying in England's schools.
"It's the dark side of the modern age," said the OECD's Andreas Schleicher.
The OECD's education director called for more regulation of social media, rather than leaving individual heads to try to cope.
Online bullying
The study, from the economics think tank the Teaching and Learning International Survey, looked at the working lives of teachers around the world, with England participating but not Scotland, Wales or Northern Ireland.
The survey, carried out every five years,…


Source news bbc.com, click here to read the full news.